15.09.2021
ISTC Supports the Third African Youth Nuclear Summit
In line with its outreach strategy in Africa, ISTC is proud of its partnership with the African Young Generation in Nuclear (AYGN), the diverse non-profit organization that is committed to ensuring the youth engagement and support within the nuclear industry, and able to capitalize on numerous professional opportunities for careers, networking and development.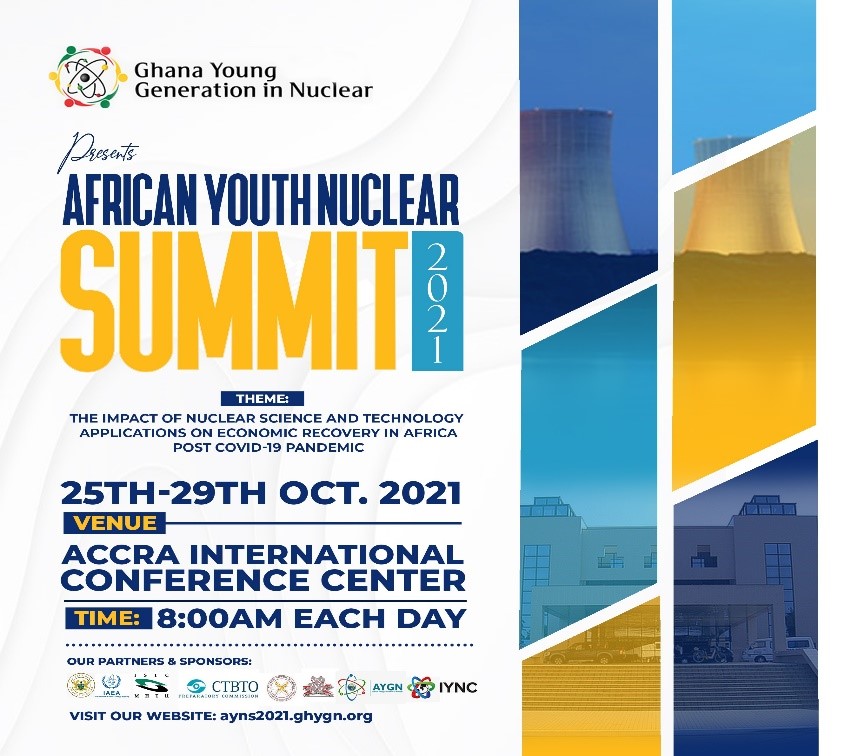 AYGN has proven itself as a reliable partner to ISTC in the implementation of the EU funded Projects MC 5.01 15B Support to the Southern African States in Nuclear Safety and Safeguards (www.sadcprojec.istc.int) and P-60 Support to the EU CBRN CoE in East and Central Africa in Nuclear Security (www.coe-project60.istc.int) and in the dissemination of the projects' interim results.
ISTC supported many AYGN activities, including the upcoming the 3rd African Youth Nuclear Summit (AYNS) in Accra, Ghana on 25–29 October 2021, dubbed, "The impact of nuclear science and technology applications on economic recovery in Africa post COVID-19 pandemic". The motto for this summit is "Defining Africa's Agenda 2063".
AYNS2021 will bring together young people and professionals across the continent, from the academia; nuclear research institutions, nuclear service providers, prospective and current operators as well as regulators to share, exchange ideas and network on issues related to nuclear science and technology.
Since the event would be hybrid, interested experts, particularly young researchers and professionals from Africa, are welcome to log in on any of the topics within the technical program. If they would like to participate, prior notice would be appreciated, with reference to this ISTC announcement. Further information and registration details can found on the Summit website https://www.ayns2021.ghygn.org/