The Armenian National Bureau of Expertise promotes responsible science in 30 institutes and universities
09.12.2021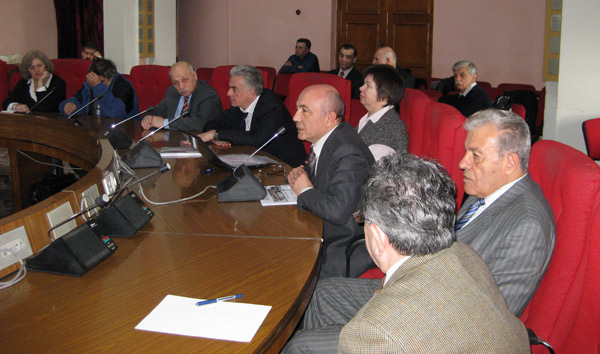 In the framework of the ISTC – implemented EU Targeted Initiative Export Control on Dual Use Materials and Technologies, the Armenian National Bureau of Expertise (NBE) conducts outreach activities to promote responsible research for the students, researchers and scientists at universities and specialized institutes. The main objectives are awareness raising among stakeholders and creation of enabling environment for the scientific community. The main impact the project aspires after is the better understanding of the intangible technology transfers (ITT) and the surrounding risks.
Several seminars have been carried out with the participation of two target groups of attendees: researchers from scientific institutes of the National Academy of Sciences and students and faculty from leading universities including masters, PhD applicants, and lecturers. In total the seminars involve 24 institutes of the National Academy of Sciences and six universities: International Scientific-Educational Centre NAS, Yerevan state university, Nation Polytechnic university of Armenia, Armenian National Agrarian University, European University and the Eurasian International University. The program covers topics such as: the meaning and essence of sensitive products, technologies and information, including dual-use products; related threats and risks; analysis of practical cases; challenges of export control in the Eurasian Economic Union; etc.
On 1 December 2021 NBE finished the first round of seminars with one group of students and with the group of lecturers. The feedback from the participants indicated that all participants in the course dealt for the first time with the topic of intangible technology transfers and dual-use issues. Because of these reasons 70 percent of the participants answered that the newly acquired knowledge was very important for them.
The International Science and Technology Center (ISTC) is an intergovernmental organization connecting scientists from Kazakhstan, Armenia, Tajikistan, Kyrgyzstan, and Georgia with their peers and research organizations in the EU, Japan, Republic of Korea, Norway and the United States.
ISTC facilitates international science projects and assists the global scientific and business community to source and engage with CIS and Georgian institutes that develop or possess an excellence of scientific know-how.
Annual Reports
Annual Reports
The electronic version of the 2020 Annual Report
2020 Audited Financial Report
view
Значимы проект
See ISTC's new Promotional video view

Subscribe to our newsletters