ISTC Participates in the IX International Conference 'Semipalatinsk Test Site: Legacy and Prospects of Scientific-Technical Potential Development'
09.09.2021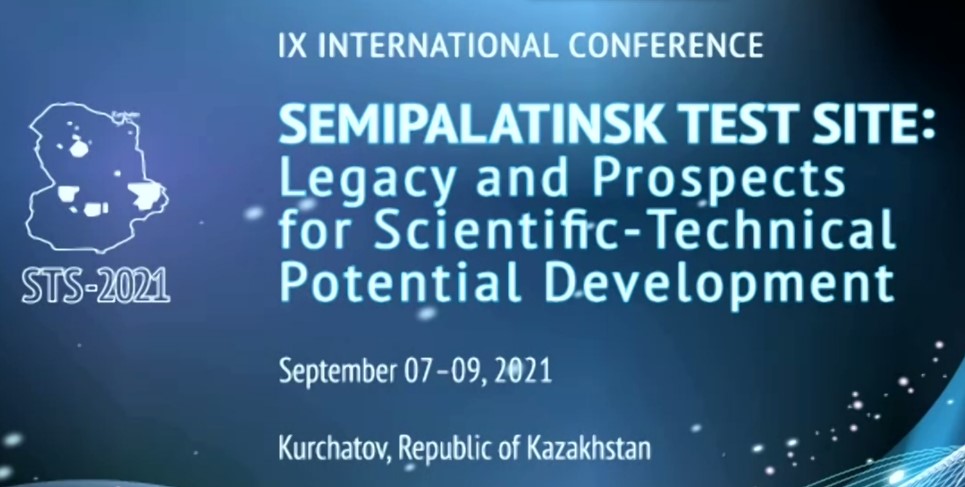 From 7 through 9 September 2021 ISTC participated in IX International Conference 'Semipalatinsk Test Site: Legacy and Prospects of Scientific-Technical Potential Development' held online in Kurchatov town on the premises of the National Nuclear Center of Kazakhstan.
Conference organizers comprised practically all major intuitions of the nuclear governance and nuclear sector actors in Kazakhstan, ranging from the Ministry of Energy, through JSC NAC "KAZATOMPROM" and the Institute of Nuclear Physics, to the Kazakh Physical Society and the Association "Nuclear Society of Kazakhstan". The three-day conference program addressed four major thematic clusters: Current Trends and Prospects of Nuclear Power Development; Controlled Thermonuclear Fusion Technologies; Radiation Ecology and Medicine; and Strengthening the Nuclear Nonproliferation Regime.
NNC Director General Erlan Batyrbekov opened the conference noting the anniversary of the closure of the Semipalatinsk range in his comprehensive overview: 30 Years: From National Tragedy – to National Pride. Participants were greeted by diplomatic representatives, among them - the US Ambassador William Mozer and Ambassador Jun Yamada of Japan.
ISTC Executive Director David Cleave opened a breakout session 'Radiation ecology and Medicine' by making a welcome speech to more than 80 section participants. He co-chaired the session in tandem with Prof. М.А. Umarov, Deputy Director of the NNC Institute of Radiation Safety and Ecology. ED David Cleave presented ISTC to the audience and the achievements of the partnership between the Center and NNC that has a record of 67 projects with funding of approximately USD 25 million. He illustrated the ongoing cooperation by flagship projects, such as the Development of a National Nuclear Forensics Library, the Building Capacity on Multilateral Verification of Nuclear Disarmament, the Assessment of Atomic Lake of STS for Remediation of Contaminated Areas, etc.
In a report entitled Kazakhstan's Nuclear Governance as a Foreign Policy Asset, Kamen Velichkov, ISTC Senior Program Manager and Diplomatic Advisor, outlined a specific aspect of the ISTC – NNC cooperation, namely the facilitation of the transfer of Kazakhstan's experience in nuclear governance to external partners, especially to the ones that embark on the road to nuclear energy and other applications. In this vein the experience of the Committee for Atomic and Energy Supervision and Control and of KAZATOMPROM in uranium mining and transport was shared with countries from the Southern African Development Community, under the EU project MC 5.01 15B, implemented by ISTC.
Several other speakers in the conference, such as Prof. T. Kodama, Japan Atomic Energy Agency, referred to ISTC in their presentations and the enabling role the Center plays for the input of Kazakhstan in international cooperation.
The International Science and Technology Center (ISTC) is an intergovernmental organization connecting scientists from Kazakhstan, Armenia, Tajikistan, Kyrgyzstan, and Georgia with their peers and research organizations in the EU, Japan, Republic of Korea, Norway and the United States.
ISTC facilitates international science projects and assists the global scientific and business community to source and engage with CIS and Georgian institutes that develop or possess an excellence of scientific know-how.
Annual Reports
Annual Reports
The electronic version of the 2020 Annual Report
2020 Audited Financial Report
view
Значимы проект
See ISTC's new Promotional video view

Subscribe to our newsletters