An ISTC PhD Grant holder from Kazakhstan makes a presentation on STC in Central Asia at the IPSA Virtual 26th World Congress of Political Science
21.07.2021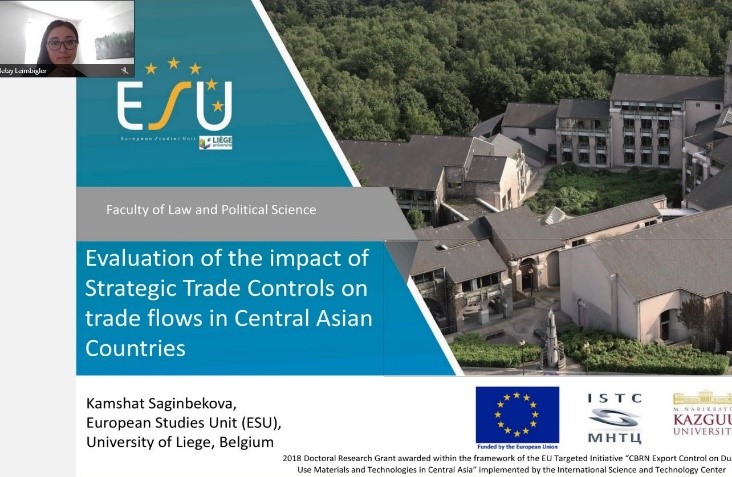 Kamshat Saginbekova, a PhD candidate at European Studies Unit (ESU) of the University of Liege, Belgium, 2018 Doctoral Research Grant holder, awarded within the framework of the EU Targeted Initiative "CBRN Export Control on Dual-Use Materials and Technologies in Central Asia" implemented by the International Science and Technology Center, presented on 12 July 2021t he preliminary results on the Evaluation of the impact of strategic trade controls on trade flows in Central Asian countries within the ongoing research at the panel of IPSA/AISP Virtual 26th World Congress of Political Science.
Since the strategic trade control system (STC) is complex and covers different sectors of the economy it allows various economic effects to be observed from the introduction and implementation of export control systems. STC can affect countries that are not producers and suppliers of dual-use items and technologies but only importing countries, like most Central Asian countries are. They have adopted and apply the STC for a long time, but there is little documented information on the economic effects of this practice. The conference paper aimed to examine the impact of STC on trade flows of dual-use technologies and strategic goods in Central Asian countries.
The preliminary results showed no statistically significant coefficients of dummy variable on implemented trade control system in line with three chosen strategies of STC legislation database on trade flows of dual-use technologies and strategic goods, in countries and periods under scrutiny. The conclusion was that STC has not harmed trade flows of dual-use related items in Central Asian countries.
The International Science and Technology Center (ISTC) is an intergovernmental organization connecting scientists from Kazakhstan, Armenia, Tajikistan, Kyrgyzstan, and Georgia with their peers and research organizations in the EU, Japan, Republic of Korea, Norway and the United States.
ISTC facilitates international science projects and assists the global scientific and business community to source and engage with CIS and Georgian institutes that develop or possess an excellence of scientific know-how.
Annual Reports
Annual Reports
The electronic version of the 2020 Annual Report
2020 Audited Financial Report
view
Значимы проект
See ISTC's new Promotional video view

Subscribe to our newsletters