Press release of the Round Table on the topic: "Strategic Trade Control in Kazakhstan: challenges and prospects»
15.06.2021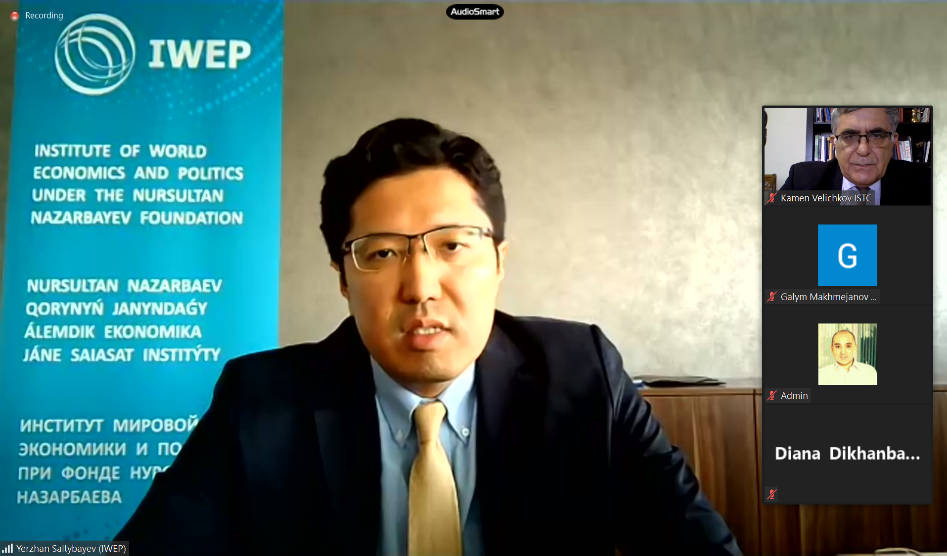 On June 09, 2021, the Institute of World Economy and Politics (IMEP) under the Nursultan Nazarbayev Foundation held an online Roundtable to implement a Strategic Trade Control (STC) Policy in Kazakhstan. The event was organized together with the L. N. Gumilyov Eurasian National University (ENU), the Central Asian Institute for Development Studies (CAIDS), and the European Studies Unit of the University of Liege, Belgium (ESU), with the support of the International Science and Technology Center (ISTC).
The roundtable was attended by scientists, experts and specialists with different backgrounds from Kazakhstan and Kyrgyzstan, representatives of business, government agencies and subordinate organizations involved in the international trade. During the opening ceremony, the director of IMEP, Yerzhan Saltybayev, made a welcoming speech. Professor Aigul Maidyrova, Head of the Department of Economics and Entrepreneurship at ENU, and Dr. Kamen Velichkov, Senior Program Manager and Diplomatic Advisor, ISTC, also addressed the audience with welcoming speeches.
During the roundtable, the participants got acquainted with the current research in international trade in strategic dual-use goods, and promising young scientists became aware of the opportunities of a new master's program in the STC at the L. Gumilyov Eurasian National University . In addition, representatives of business and academia noted the importance of the new educational program to meet the rising demand for specialists in STC. Experts in this new field will be optimizing the organizational management system of enterprises to minimize the risks associated with non-compliance with international regimes of foreign trade control.
At the end, the speakers answered all the questions asked by the participants. The presentations will be shared with the organizations represented at the roundtable, and posted on the ISTC website.
The International Science and Technology Center (ISTC) is an intergovernmental organization connecting scientists from Kazakhstan, Armenia, Tajikistan, Kyrgyzstan, and Georgia with their peers and research organizations in the EU, Japan, Republic of Korea, Norway and the United States.
ISTC facilitates international science projects and assists the global scientific and business community to source and engage with CIS and Georgian institutes that develop or possess an excellence of scientific know-how.
Annual Reports
Annual Reports
The electronic version of the 2020 Annual Report
2020 Audited Financial Report
view
Значимы проект
See ISTC's new Promotional video view

Subscribe to our newsletters