On May 3-5, 2021, an online Training the Trainers Workshop was held in Bishkek
11.05.2021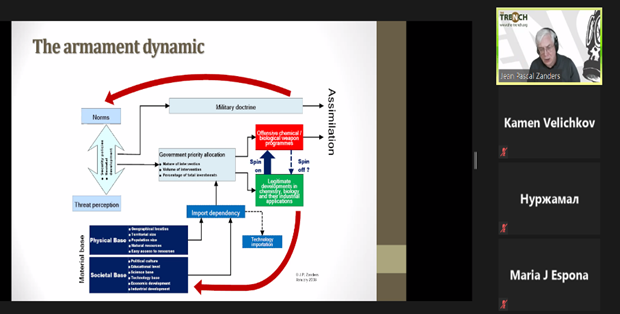 On May 3-5, 2021, an online Training the Trainers Workshop was held in Bishkek, organized for teachers of the Kyrgyz National University named after Jusup Balasagyn and EC experts involved in the development of an academic program on Strategic Trade Control at the Department of "Law and Customs" of the Faculty of Law of the University.
The 3-day online training with participation of European experts Prof. Jean Pascal Zanders and Prof. Maria J. Espona addressed issues of chemical and biological weapons, radiological and nuclear weapons technology management and many others. The training helped the University professors and EC experts to develop a common understanding of how to teach the academic program on Strategic Trade Controls and to better understand the export control system and international nonproliferation obligations
Implementation of the course and the master's program on Strategic Trade Control will allow the country to strengthen its control system for sensitive transfers and minimize the risks of violations of export control laws. It will also raise the awareness of customs officers, company officials, and government officials about export control issues.
This Workshop was organized by the International Science and Technology Center (ISTC) in the framework of the EU-funded CBRN Targeted Initiative on Export Controls of Dual-Use Materials and Technologies in cooperation with the Export Control Center (Bishkek)
The International Science and Technology Center (ISTC) is an intergovernmental organization connecting scientists from Kazakhstan, Armenia, Tajikistan, Kyrgyzstan, and Georgia with their peers and research organizations in the EU, Japan, Republic of Korea, Norway and the United States.
ISTC facilitates international science projects and assists the global scientific and business community to source and engage with CIS and Georgian institutes that develop or possess an excellence of scientific know-how.
Annual Reports
Annual Reports
The electronic version of the 2020 Annual Report
2020 Audited Financial Report
view
Значимы проект
See ISTC's new Promotional video view

Subscribe to our newsletters