ENU Students Complete their Summer Internship at ISTC
26.06.2020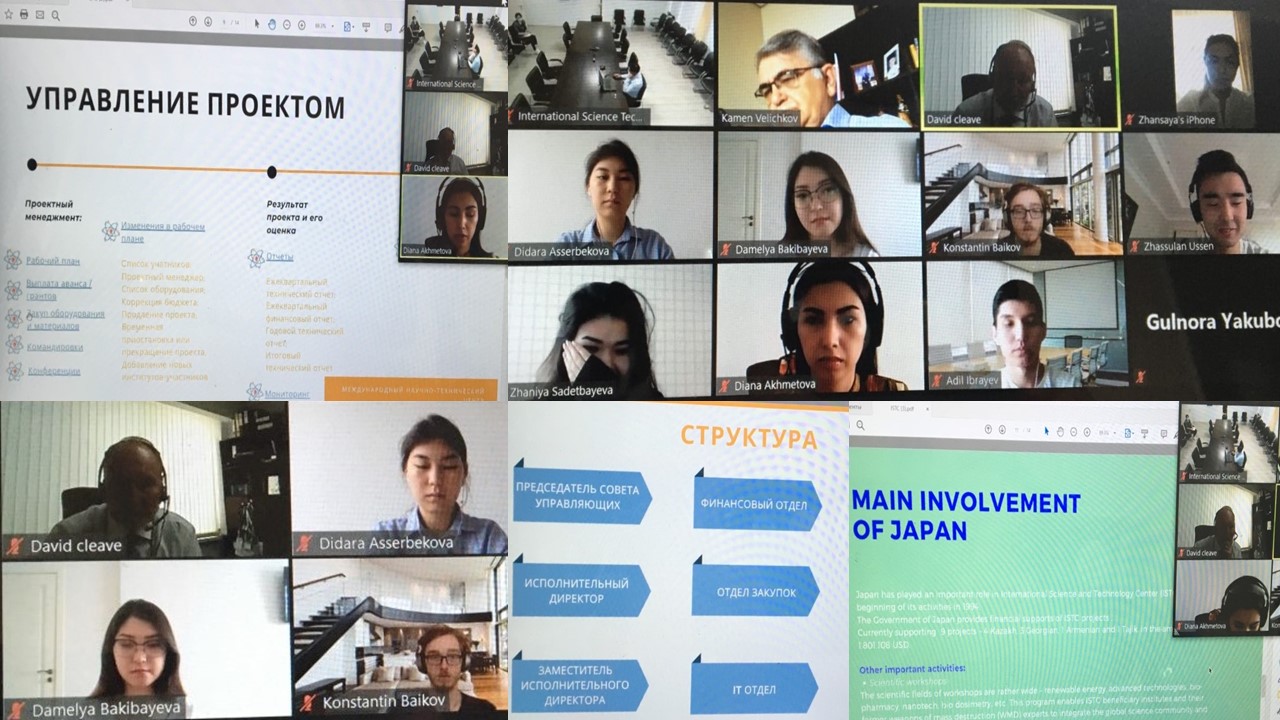 Nur Sultan, 25 June 2020. "Our practice at ISTC was truly great and remarkable." By this sentence, Zhansaya Beysenova, a second year student in International Relations at the Eurasian National University (ENU), summarized the experience she shared with seven of her pals at the ISTC during the last three weeks of training that had to be conducted under the unusual circumstances of the COVID-19 pandemic. ISTC maintains partnership relations with ENU that this year acquired a new form through the internship of the young trainees at the ISTC Main Office.
On 25 June, as a peak of their program, the summer interns took part in an on-line meeting with ISTC Executive Director David Cleave and some of the youngest members of ISTC Secretariat.
Executive Director David Cleave provided a comprehensive overview of the organization, its origins and achievements and present-day transition, underlining inter alia, that ISTC pays special attention to encouragement and support for the new generation of young scientists and professional experts. The students were curious to know more about the largest on-going projects implemented by the organization, the role of the host country Kazakhstan, and the geographical scope of ISTC activities. The Executive Director underlined the importance of the ISTC policy of full transparency of operations and close coordination with the governments of the numerous countries-beneficiaries of ISTC projects.
Diana Akhmetova provided glimpses of the everyday work of a Project Officer at ISTC, and a description of the functioning of the organization throughout the project cycle of activities that ISTC monitors and manages. Aizada Turekulova, herself a recent ENU graduate in International Relations, delved into the Japan-funded projects she works on, including the Future Leaders Program.
After the meeting, Damelya Bakibayeva, a student majoring in Computer Sciences, wrote: "Honestly, it is a great honour to be part of this organization, even if it is at the level of our practice. Our group got answers to all our questions, including me – on my favourite cyber sphere."
Earlier during the internship, the students worked on essays dedicated to the European Union and its policies. Konstantin Baikov sought to explain and predict the role of Germany, Zhassulan Ussen examined the emergence and evolution of the Common Defence and Security Policy, while Didara Asserbekova assessed the EU's public diplomacy. The internship at ISTC provided the students with good illustrations of EU - US, and EU – Japan interaction on non-proliferation and threat reduction as exemplified by several targeted initiatives and projects that ISTC implements in collaborations with public, private and academic partners.
The International Science and Technology Center (ISTC) is an intergovernmental organization connecting scientists from Kazakhstan, Armenia, Tajikistan, Kyrgyzstan, and Georgia with their peers and research organizations in the EU, Japan, Republic of Korea, Norway and the United States.
ISTC facilitates international science projects and assists the global scientific and business community to source and engage with CIS and Georgian institutes that develop or possess an excellence of scientific know-how.
Annual Reports
Annual Reports
The electronic version of the 2019 Annual Report
2019 Audited Financial Report
view
Значимы проект
See ISTC's new Promotional video view

Subscribe to our newsletters