ISTC and KAZGUU invite International Experts as Guest Speakers on the Role of Academia in Trade Control and CBRN Non-proliferation
23.05.2018
23 May 2018. Dr Jean Pascal Zanders, an internationally renowned expert on armament and disarmament, covering chemical, biological, radiological and nuclear weapons, talked at the KAZGUU in Astana about the role of academia in spreading the culture on non-proliferation. He is part of a group of scientists and researchers, invited by the International Science and Technology Center to partake in a series of outreach events and seminars on the challenges of scientific and technological evolution in export control systems. KAZGUU is collaborating with ISTC in the implementation of an eponymous initiative that targets scientific, research, government and industry representatives from ten countries in Central Asia, Caucuses, Mongolia, Pakistan and Afghanistan. In particular, KAZGUU is the educational institution that will introduce in its graduate and post-graduate curriculum a specialized course on export control of items of dual use.
To discuss the goal and scope of the educational initiative, Dr Zanders from The Trench consultancy in Belgium was joined by Dr. Kai Ilchmann, a professional in the area of science technology governance from the University of Sussex, UK and Maria J. Espona, an expert in the WMD field from the University of Granada, Spain. Dr Kamen Velichkov, ISTC Senior Programme Manager and Diplomatic Advisor, introduced the European experts to KAZGUU's faculty, staff and students. Prof. Dr. Dilbar Gimranova, Dean of the Higher School of Economics, Dr. Galym Makhmejanov, Director, Qazaq Institute for Development Studies, Dr. Ikboljon Qoraboyev, Senior Lecturer in International Relations at QIDSs took part in the exchange of views about the introduction of an MA or PhD programme on export control issues.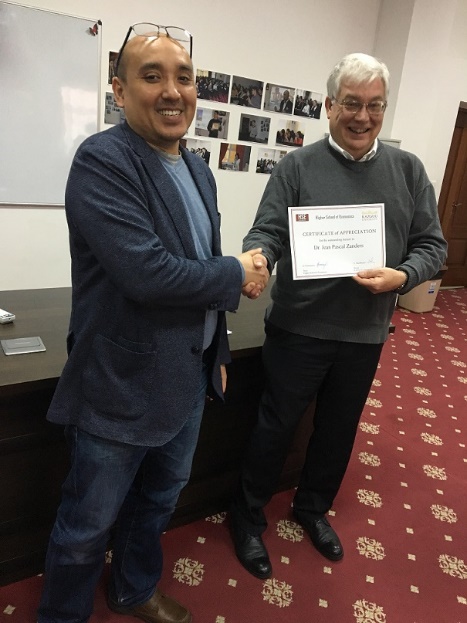 The ISTC has recently conducted a competition for PhD students and young professionals in the framework of the Targeted Initiative entitled "CBRN Export Control on Dual-Use Materials and Intangible Technologies in Central Asia", sponsored by the EU Commission. The purpose of the competition was to encourage young scientists to undertake research related to the developments and trends of CBRN non-proliferation; strategic trade control; or national and international trade control systems. The Doctoral Research Grant was open to postgraduate students in social sciences holding a Master's degree from a university located in one of the partner countries of the Target Initiative (Kazakhstan, Kyrgyzstan, Uzbekistan, Tajikistan, Turkmenistan, Armenia, Afghanistan, Pakistan, and Mongolia).
The ISTC received a number of excellent applications and via a competitive selection process a highly qualified doctoral student from KAZGUU was selected. The selected candidate will receive the grant award at a ceremony in Brussels during the EU CBRN Risk Mitigation Centres of Excellence Initiative's Sixth International Meeting of National Focal Points in June 2018.
The International Science and Technology Center (ISTC) is an intergovernmental organization connecting scientists from Kazakhstan, Armenia, Tajikistan, Kyrgyzstan, and Georgia with their peers and research organizations in the EU, Japan, Republic of Korea, Norway and the United States.
ISTC facilitates international science projects and assists the global scientific and business community to source and engage with CIS and Georgian institutes that develop or possess an excellence of scientific know-how.
Annual Reports
Annual Reports
The electronic version of the 2020 Annual Report
2020 Audited Financial Report
view
Значимы проект
See ISTC's new Promotional video view

Subscribe to our newsletters