At the meeting of ISTC and MID discuss the progress made and the prospects for the successful cooperation on the implementation of the EU – funded Project CBRN Export Control on Dual Use Materials and Technologies in Central Asia
07.02.2018
On 7 February 2018 ISTC Executive Director David Cleave with Mr. Kanat Baitov, Vice Chairman, Industrial Development and Industrial Safety Committee, Ministry of Investment and Development (MID), to discuss the progress made and the prospects for the successful cooperation on the implementation of the EU – funded Project CBRN Export Control on Dual Use Materials and Technologies in Central Asia, launched last October in Astana. The projects seek to regionalize the experience gained by the export control system in Kazakhstan and involves nine other countries from Central Asia and adjacent regions: Kyrgyzstan, Tajikistan, Uzbekistan, Turkmenistan, Mongolia, Afghanistan, Pakistan, Armenia and Georgia.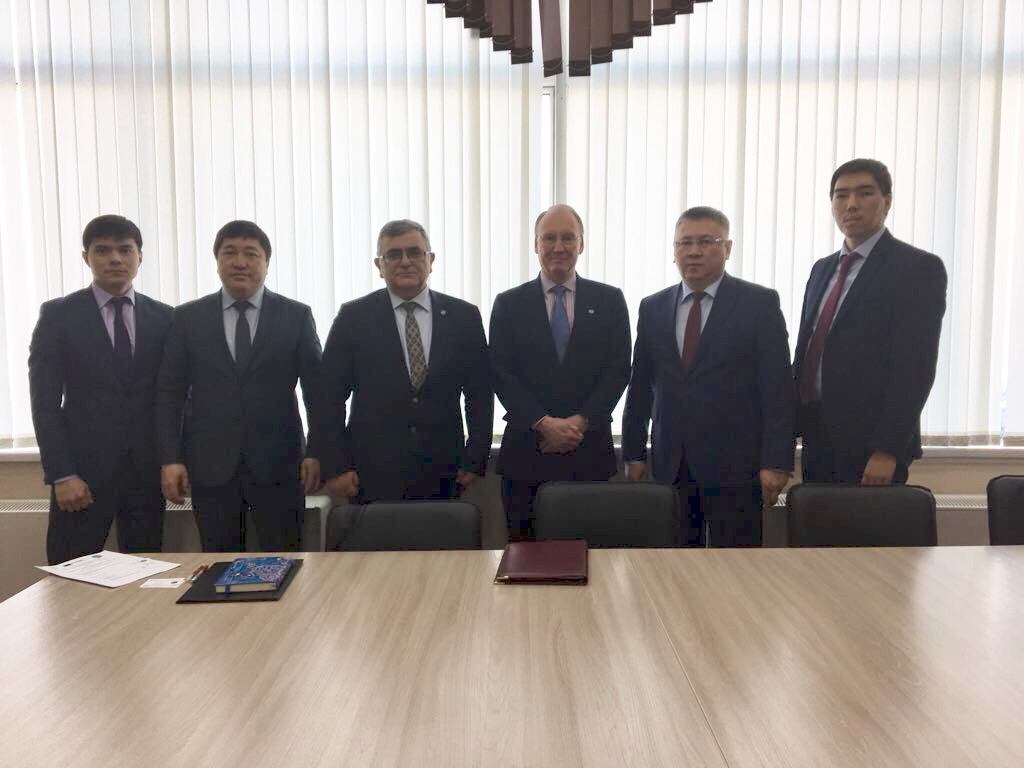 The preparations for the second seminar came into scrutiny titled: Challenges of the Scientific and Technological Evolution for the Export Control Systems to be held in Astana, from 23through 25 May 2018. The seminar will seek to address the identified areas of interest of all actors involved in the export control activities – government agencies, industry and academia. Raising awareness of the research communities in the region is one central objective, while capacity building also remains a priority, including through the provision of EU expertise in specialized educational and training courses, as well as a grant for doctoral studies of a young scholar to be identified on competitive basis.
The meeting was attended also Mr. Azamat Kushumov, Acting Head of Export Control and Licensing Department, MID, and Mr. Askhat Esenbekov, Senior expert at the same Department, as well as ISTC Deputy Executive Director Aidyn Turebayev, and Kamen Velichkov, ISTC Senior Program Manager and Diplomatic Adviser.
The International Science and Technology Center (ISTC) is an intergovernmental organization connecting scientists from Kazakhstan, Armenia, Tajikistan, Kyrgyzstan, and Georgia with their peers and research organizations in the EU, Japan, Republic of Korea, Norway and the United States.
ISTC facilitates international science projects and assists the global scientific and business community to source and engage with CIS and Georgian institutes that develop or possess an excellence of scientific know-how.
Annual Reports
Annual Reports
The electronic version of the 2020 Annual Report
2020 Audited Financial Report
view
Значимы проект
See ISTC's new Promotional video view

Subscribe to our newsletters