Members of the ISTC and STCU Executive Boards visit the EU CBRN SEEE Centre of Excellence Regional Secretariat in Tbilisi
12.12.2016
On 7 December 2016 participants in the sessions of the Executive Boards of STCU and of ISTC that took place in Tbilisi, Georgia, visited the Regional Secretariat of the EU Centre of Excellence for South Easter and Eastern Europe, headquartered in the Academy of the Ministry of Internal Affairs. The delegation was led by STCU Executive Board Chairman Eddie Maier, Deputy Head of Unit DEVCO B5. Stability, Security, Development and Nuclear Safety of the European Commission's Directorate General for International Cooperation and Development.
Vice-Rector of the Academy Miranda Khabazi greeted the visitors and debriefed them about MIA Academy, a higher and special professional police education institution, that proudly hosts the EU CBRN SEEE CoE. The Head of the Regional Secretariat, Givi Amiranashvilli, described the priorities and achievements of the CoE that unites National CBRN Teams from nine countries from South East Europe, Southern Caucasus, Moldova and Ukraine. Georgia set an example of good performance becoming the first country that adopted a National Action Plan and spearheaded the set-up of a CBRN CoE Group of Friends at the United Nations to provide a platform for peer review of the progress made by various participants in the network. Regional Coordinator Francesco Miorin, UNICRI, described the objectives of the EU-funded Centres for CBRN risk mitigation and their important input in the inter-regional and international cooperation.
In the discussion that ensued, EB Chairman Eddie Maier, ISTC Executive Director David Cleave and STCU Executive Director Curtis Bjelajak pointed out the benefits and prospects for enhanced cooperation between the science and technology Centres and the EU CBRN CoE.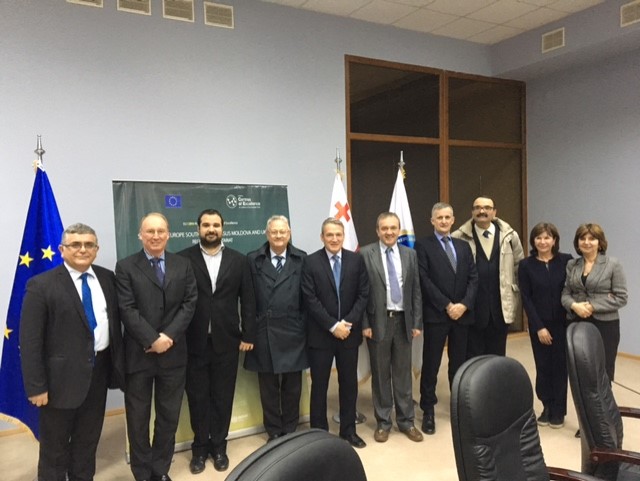 The International Science and Technology Center (ISTC) is an intergovernmental organization connecting scientists from Kazakhstan, Armenia, Tajikistan, Kyrgyzstan, and Georgia with their peers and research organizations in the EU, Japan, Republic of Korea, Norway and the United States.
ISTC facilitates international science projects and assists the global scientific and business community to source and engage with CIS and Georgian institutes that develop or possess an excellence of scientific know-how.
Annual Reports
Annual Reports
The electronic version of the 2019 Annual Report
2019 Audited Financial Report
view
Значимы проект
See ISTC's new Promotional video view

Subscribe to our newsletters