The ISTC Executive Director David Cleave meets in Tbilisi Mr. Alexandre Jejelava, Minister of Education and Science of Georgia
05.12.2016
During the 63-th ISTC Executive Board meeting in Tbilisi, on 5 December 2016, Mr. Alexandre Jejelava, Minister of Education and Science of Georgia, received a delegation of ISTC Secretariat led by the Executive Director David Cleave. The Minister and the Executive Director assessed the achievements of the successful cooperation between ISTC and Georgia, and expressed satisfaction with the number of ITSC projects – 586, and the volume of funding - almost USD 33 million, with biotechnology, medicine and materials being the leading areas of application.
Minister Jejelava described ISTC as a reliable partner and a source of both scientific and organizational know-how for Georgia, much needed in the reform efforts of the government aimed at the revival of the Georgian scientific community and at increasing its capacity for participation in regional and international research projects.
At the beginning of next year, the newly elected Georgian Parliament is expected to ratify the ISTC Continuing Agreement and the agreement on the functioning of the ISTC Branch Office in Tbilisi. In addition to its membership in ISTC, Georgia is also a member of STCU, and the host country for the EU CBRN Centre of Excellence for South Eastern and Eastern Europe.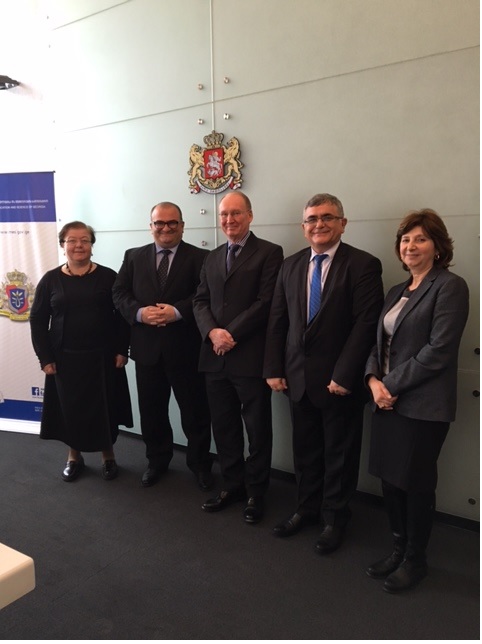 The International Science and Technology Center (ISTC) is an intergovernmental organization connecting scientists from Kazakhstan, Armenia, Tajikistan, Kyrgyzstan, and Georgia with their peers and research organizations in the EU, Japan, Republic of Korea, Norway and the United States.
ISTC facilitates international science projects and assists the global scientific and business community to source and engage with CIS and Georgian institutes that develop or possess an excellence of scientific know-how.
Annual Reports
Annual Reports
The electronic version of the 2019 Annual Report
2019 Audited Financial Report
view
Значимы проект
See ISTC's new Promotional video view

Subscribe to our newsletters