Representatives from Seven Embassies in Moscow Visit ISTC Drug Development Project
19.02.2009
On 19 February, ISTC in partnership with the Center of Immunological Engineering in Moscow and the Russian private biotech company, Biocad, hosted a tour of the modern Biocad production facilities in the Krasnogorsk region of Moscow. Senior science and trade representatives from seven embassies in Moscow took part in the tour of the facilities as part of ISTC's program to broaden understanding of ISTC's work and the high quality of research and development and commercial application now taking place in Russia.

The production facilities visited during the tour were at Biocad, a Russian full cycle drug development company with both a research and a manufacturing arm. ISTC and a US Partner have worked with Biocad and its affiliated institute to support R&D in drug development specifically related to the treatment of multiple sclerosis. Through its partner programme, ISTC has supported the institute and the scientists engaged in the development of the new drug, through all stages of research and through to clinical trial, and the company is expected to be commercially producing the drug at its own facilities by the end of 2009. The multiple sclerosis drug itself is expected to cost around half the price of the conventionally used drug treatments, with treatment time also decreased.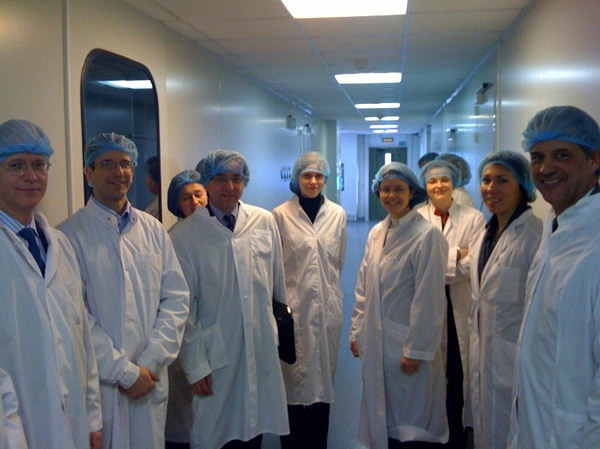 ISTC Deputy Executive Director, Leo Owsiacki (far right of picture) and Embassy representatives at the Biocad Production facility outside Moscow
The International Science and Technology Center (ISTC) is an intergovernmental organization connecting scientists from Kazakhstan, Armenia, Tajikistan, Kyrgyzstan, and Georgia with their peers and research organizations in the EU, Japan, Republic of Korea, Norway and the United States.
ISTC facilitates international science projects and assists the global scientific and business community to source and engage with CIS and Georgian institutes that develop or possess an excellence of scientific know-how.
Annual Reports
Annual Reports
The electronic version of the 2019 Annual Report
2019 Audited Financial Report
view
Значимы проект
See ISTC's new Promotional video view

Subscribe to our newsletters