ISTC Welcomes the Launch of the UAE CBRN Hub
17.11.2020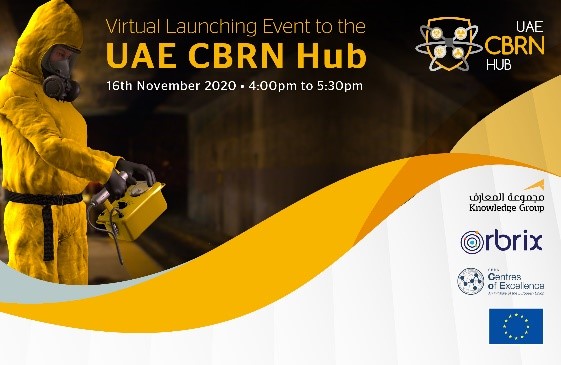 On 16 November, ISTC representatives attended the virtual launch of the CBRN (Chemical, Biological, Radiological, and Nuclear) Hub in the UAE. In cooperation with the European Union CBRN Centre of Excellence (EU CBRN CoE) Office for the Gulf Cooperation Council (GCC) Region, the launch was convened under the directorship of Knowledge Group – Abu Dhabi University with Orbrix Technical and Occupational Skills Training, a firm delivering training and consulting services in the radiological and environmental protection industry.
The UAE CBRN Hub will provide a "one-stop shop" for all aspects related to CBRN education, training, exercises and research. The Hub is pledging to work in close cooperation with the EU CoE Initiative, and international organizations such as the IAEA, OPCW, WHO and INTERPOL, to ensure relevant training and knowledge sharing in CBRN related topics, practices and standards.
ISTC maintains contacts with the EU CBRN Centre of Excellence (CoE) for the GCC region; in 2018 the ISTC Management paid a visit to the CoE Secretariat in Abu Dhabi. UAE is soon to become home of the first nuclear power station in the Arab world, which will operate a reactor supplied by an ISTC State Party, namely Republic of Korea. ISTC is looking forward to cooperating with the EU CBRN CoE for the GCC region and the UAE CBRN Hub on topics pertaining to regional and international CBRN preparedness and response.
Annual Reports
Annual Reports
The electronic version of the 2019 Annual Report
2019 Audited Financial Report
view
Значимы проект
See ISTC's new Promotional video view

Subscribe to our newsletters