Undergraduate Students from the Eurasian National University with Summer Internship at ISTC
18.06.2020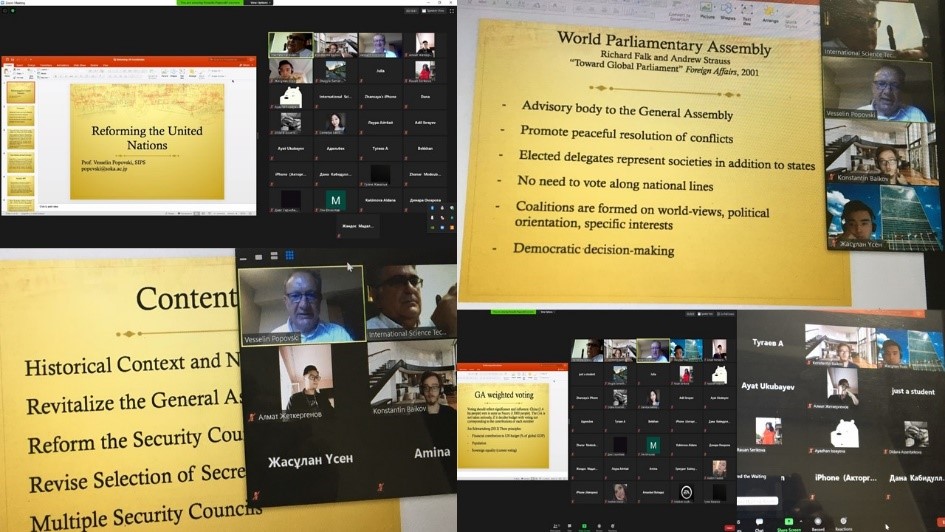 Nur-Sultan, 17 June. A group of undergraduate students from the Eurasian National University who are on a summer internship with ISTC held on 16 June an on-line discussion on the reform of the United Nations. The guest lecturer - Dr. Vesselin Popovski, an internationally renowned expert on UN reform matters – made a historical overview of the establishment of the UN's principle organs in 1945, the procedures for selecting Secretary General and the several attempts to reform the UN's General Assembly and Security Council in the 1990s and 2000s. Dr. Popovski highlighted the longstanding strong opposition by the five permanent members of the UN Security Council to allow for its broader reform. He discussed his own proposal to overcome this opposition by establishing a more representative membership in the Security Council by inviting regional organizations (such as EU, ASEAN, AU) and emerging powers from all continents in a transitional "eight plus eight plus eight" formula that ensures the balance of interests of the old permanent members and the aspirations of the new temporary permanent members. Dr. Popovski', who as writer, contributor and editor, authors over 20 peer-reviewed publications on the UN reform and global governance, was pleased to answer several questions that focused on the role and positions of the UK, Japan, and Russia vis-à-vis the reform agenda. In addition, Dr. Poposvki discussed his proposal for the establishment of a system of Multiple Security Councils where new permanent members will assume membership according to their priorities and contribution to the global challenges. These new Security Councils would include a Climate Change Security Council, a Health Security Council and a Peacebuilding Security Council.
Thirty-three students and six faculty members from the Department on International Affairs and the Friends of Europe Club under the ENU's Jean Monnet Chair on European Diplomacy took part in the on-line discussion with Dr. Popovski. Currently Professor in International Peace Studies at Soka University, Tokyo, he holds a PhD from King's College London, a M.Sc. from London School of Economics, and B.A./M.A. from Moscow State Institute of International Affairs. Dr. Popovski was Expert Member of the Commission on Global Security, Justice and Governance (2015-2018) and Together First: UN at 75 (2019-2020). In the past, he contributed to two major global initiatives: the International Commission on Intervention and State Sovereignty (ICISS) and its Report 'Responsibility to Protect' (2001), and Princeton Project on Universal Jurisdiction and its 'Princeton Principles of Universal Jurisdiction' (2001).
The on-line lecture cum discussion was convened by Dr. Kamen Velichkov who supervises the internship of the ENU students. The International Science and Technology Center is for the first-time host of students on internship at ISTC. Currently, the eight undergraduate students are learning about the role, activities and governance of various international organisations. Their next topic for knowledge exchange is science diplomacy and public diplomacy.
Annual Reports
Annual Reports
The electronic version of the 2019 Annual Report
2018 Audited Financial Report
view
Значимы проект
See ISTC's new Promotional video view

Subscribe to our newsletters