Young African professionals, EU experts discuss how to communicate safety and security of nuclear technologies and uranium mining
21.11.2017
Young African professionals, EU experts discuss how to communicate safety and security of nuclear technologies and uranium mining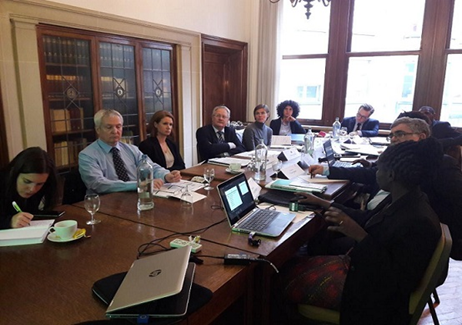 20 November 2017, Brussels/Astana. Representatives of the ISTC and the Directorate General for International Cooperation and Development (DG DEVCO) of the European Commission co-hosted on 13-14 November in Brussels young African professionals in nuclear for an expert meeting on nuclear communication and advocacy. The meeting was convened in the framework of Project MC 5.01/15B "Support to Southern African States in Nuclear Safety and Safeguards" and Project 60 "Support to the EU CBRN ECA Center of Excellence in Nuclear Security". On numerous occasions representatives of the thirteen project participating countries made requests for assistance in improving communication on nuclear topics with various stakeholders, including with communities on the route of uranium ore transportation in the region.
Dr. Margaret Mkhosi, Director, Centre for Nuclear Safety and Security (CNSS) talked about the role the RSA National Nuclear Regulator (NNR) could play in the implementation of Project MC 5.01/15B. Mr. Pascal Daures, Head of Sector Nuclear Safety Preventive and Corrective Actions, DEVCO, welcomed the intention of both ISTC and CNSS in preparing the training under MC 5.01 15B to draw on the expertise of the European Nuclear Education Network, a reservoir of expertise in the nuclear fields. Mr. Kamen Velichkov, Senior Program Manager, ISTC, presented the Communication and Visibility Plan of Project MC 5.01/15 B that includes proposals for reaching out to various stakeholders in the participating countries: Malawi, Tanzania, Zambia, Namibia, as well as in South Africa and Botswana, the headquarter of SADC.
On behalf of the Kenyan Young Generation in Nuclear (KYGN), an affiliate of the International Youth Nuclear Congress (IYNC), Ms. Pamella Kageliza Kilavi, President, informed how this non-profit organization cooperates with partners from the industry, academia and with international organizations to demystify the nuclear. Through the EU CBRN CoE in East and Central Africa, KYNG helped spread information about Project 60.
The young generation networks in Africa were presented by Mr. Raphael Chesori, Secretary General, African Young Generation in Nuclear (AYGN). Inaugurated on 29th March 2017 following a successful pan-African summit supported by CBRN Project 60, AYGN offers a platform to exchange ideas and network on issues related to nuclear science and technology in Africa and globally. Currently AYGN has chapters in South Africa, Kenya, Nigeria, Ghana, DR Congo, Cameroon and Uganda.
Dr Margaret Mkhosi, who is a member of the Executive Board of Global Women in Nuclear (WiN), talked on behalf of African Women in Nuclear (WiN). In Africa, well-established chapters exist in Egypt and in South Africa, while in Nigeria, Zimbabwe and Kenya they are at an initial stage.
Ms. Marielle Rogie, Director, Belgium Nuclear Forum (BNF) presented the Forum's mission, goals and ways of communicating its messages. She shared examples of general public campaigns, debates and lobby actions among political and economic stakeholders. The organization is a content provider through its dedicated website and social media means. Thus, BNF succeeds to explain and adapt the messages and to facilitate the dialogue of the nuclear community with the public at large.
The participants in the meeting discussed the tentative program of the upcoming AYGN-KYGN Integrated Workshop on Nuclear Advocacy and Communication (29-30 November 2017, Nairobi).
Mr. Eddie Maier, Deputy Head of Unit B5, EC DEVCO, commented that the goals of Project MC 5.01/15B "Support to Southern African States in Nuclear Safety and Safeguards" and Project 60 "Support to the EU CBRN ECA CoE in Nuclear Security" should be accepted by the population in the concerned African countries. In this respect, the role of youth and of women is crucially important also for cultural reasons. From this point of view, organizations like AYGN, KYGN, and AWiN are indispensable partners. Their involvement in relevant communication activities may enhance the implementation and magnify the impact of both projects.
The International Science and Technology Center (ISTC) is an intergovernmental organization connecting scientists from Kazakhstan, Armenia, Tajikistan, Kyrgyzstan, and Georgia with their peers and research organizations in the EU, Japan, Republic of Korea, Norway and the United States.
ISTC facilitates international science projects and assists the global scientific and business community to source and engage with CIS and Georgian institutes that develop or possess an excellence of scientific know-how.
Annual Reports
Annual Reports
The electronic version of the 2019 Annual Report
2019 Audited Financial Report
view
Значимы проект
See ISTC's new Promotional video view

Subscribe to our newsletters