Pakistani officials express interest to deepen cooperation with ISTC
18.10.2017
Pakistani officials express interest to deepen cooperation with ISTC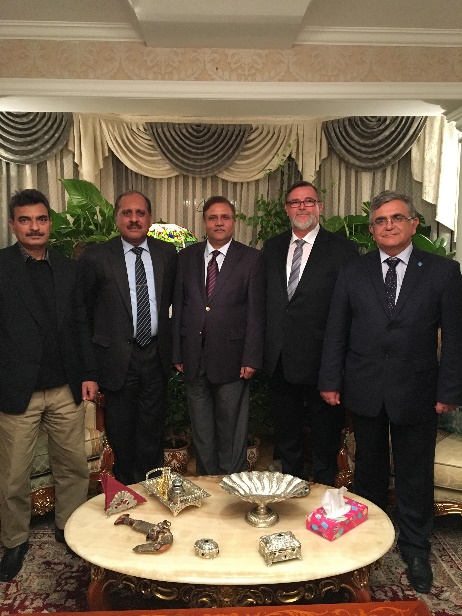 October 13, 2017, Astana. Representatives of ISTC Secretariat and officials from Pakistan got together to discuss prospects for advanced partnership between Pakistan and ISTC. It was held on the side of an ISTC-organized international seminar on export control of materials and technologies with dual use and hosted by Mr. Abdul Salik Khan, Ambassador of the Islamic Republic of Pakistan to the Republic of Kazakhstan. The meeting was attended by Dr Zafar Ali, Director General, Strategic Export Control Division, MFA, and Prof. Siyad Shahab Kushnood, Dean, Mechanical and Aeronautical Engineering, University of Engineering and Technology, Islamabad, and by the ISTC representatives - Kamen Velichkov, Senior program manager (EU) and Diplomatic advisor and Burkhard Endrullat, Senior program manager (EU).
The Pakistani officials were debriefed about ISTC's achievements, mission and ongoing transformation. Pakistan's participation in several ISTC regional projects came under survey. MFA Director General Zafar Ali expressed appreciation of the fact that Pakistan was invited to take part in the EU-funded project on export control on dual-use items. Both the Ambassador and the MFA Director General voiced positive expectations regarding the possibility for Pakistan to institutionalize its cooperation with ISTC and to work in the capacity of an Observer Party.
The interlocutors acknowledged with satisfaction the recently signed Memorandum of Understanding between ISTC and the ECO Science Foundation (ECOSF) - the Inter-Governmental Specialized Agency of the Economic Cooperation Organization (ECO), established in Islamabad with ten member countries.
The interlocutors noted the importance of the first OIC Summit on Science and Technology, that took place in Astana on September 10-11, 2017. President Mamnoon Hussain of the Islamic Republic of Pakistan took part in it as the patron of the OIC Standing Committee on Scientific and Technological cooperation. Its Coordinator General Dr. Shaukat Hameed Khan maintains regular correspondence with ISTC.
The ISTC Secretariat stated readiness to further discuss opportunities for advanced partnership between Pakistan and ISTC. Ambassador Abdul Salik Khan accepted with appreciation the invitation to visit ISTC Main Office in the coming weeks.
The meeting took place in line with the ongoing dialogue between the ISTC Secretariat and the Embassy of Pakistan and multilateral scientific organizations based in Islamabad, in the frame of the ISTC outreach policy.
The International Science and Technology Center (ISTC) is an intergovernmental organization connecting scientists from Kazakhstan, Armenia, Tajikistan, Kyrgyzstan, and Georgia with their peers and research organizations in the EU, Japan, Republic of Korea, Norway and the United States.
ISTC facilitates international science projects and assists the global scientific and business community to source and engage with CIS and Georgian institutes that develop or possess an excellence of scientific know-how.
Annual Reports
Annual Reports
The electronic version of the 2019 Annual Report
2019 Audited Financial Report
view
Значимы проект
See ISTC's new Promotional video view

Subscribe to our newsletters